Clopay Carriage Doors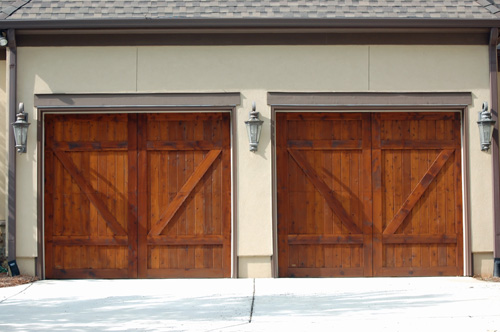 The traditional style of the Clopay carriage house garage doors makes them particularly versatile. They match garages and houses of various designs and styles. These are the traditional models in the brand's product range and are available in various makes, finishes, and colors. There is a wide variety of decorative options as well.
These doors resemble closely the doors of carriage houses which were present in many homes until carriages got replaced by cars. The traditional units were attached to the jambs with hinges and opened to the sides with the use of handles. The modern Clopay units are overhead doors which are opened in an upward direction with the use of a spring and electric opener. Since, they resemble the style of the traditional carriage house doors; they come with decorative hinges and handles. Decorative plates and rustic decorative nails are available as well. In the end, there are modern overhead doors with automated operation which look like authentic carriage house units.
Give Your House A Classic Look

There are two make options with the brand's garage doors in carriage style, steel and wood. Steel units are painted with paint which resembles closely natural woodgrain or a faux wood composite overlay. There is a selection of wood materials from hemlock and cedar to redwood and fir. Both the wood and steel models can be insulated.
Each of the Clopay carriage garage doors come in a variety of different decorative designs. There are various top section designs as well. The top section comes with solid panels or windows. Steel and wood units arrive in many different colors while handles, hinges, plates, and decorative nails are available in various styles and finishes also. All of these options create excellent opportunities for complete door customization.